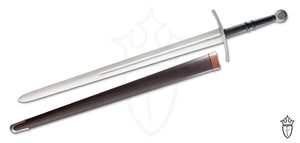 Type XIIIa War Sword - Designed by Angus Trim (Atrim)
Based on Oakeshott's Type XIIIa specification these swords were used in the 12th to early 13th Century in that transitional period from hardened leather to mail with some plate armor protecting vital areas of the body. 
Atrim Design Swords
We spent a lot of time discussing with Gus his methodology for developing what he would call a "performance-oriented" sword. Without getting too deep into it Gus, along with Tinker Pearce, was one of the pioneering sword makers to incorporate the notion of harmonic balance into his sword designs. Informed by historical examples and his own experimentation Gus has been making swords for decades now that seem to float in your hand. For this sword Gus left the aesthetics and materials up to us, it was the design (weight, balance, taper, harmonics) we had to get right. It took several rounds of samples (not to mention a botched first run) but we finally nailed it.
Not satisfied with just getting the design right we wanted to push it farther. We had the fundamentals down but chose to take the materials and fit and finish a step ahead. The blade is hand forged mono-tempered 9260 spring steel, flat ground with a handsome satin finish. The fittings are high quality stainless steel exactly matching Gus's design. The grip is a solid wood core, cord-wrapped for strength with a textured leather over-wrap. The scabbard is a solid wood core, with stainless steel chape and stitched leather wrap. 
Bottom line, these are the best performing production medieval swords available.
Key Features:
32 3/4" 9260 steel blade
Leather and ire wrapped wood core handle
Premium scabbard included
Specifications:
Overall: 43 1/4"
Blade Length: 32 3/4"
Handle Length: 10"
Weight: 3 lbs 4 oz
Point of Balance: 6"
Blade Steel: 9260

Specs will vary slightly from piece to piece.
The Atrim Design Type XIIIa Sword by Kingston Arms is the product you didn't think you need, but once you have it, something you won't want to live without.

Inventory Last Updated: Sep 21, 2023