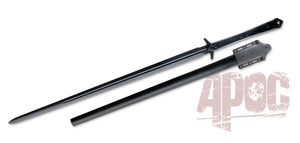 APOC Survival Longsword designed by Gus Trim
After everything hits the fan and the muck has settled, all the symbols that represented the best man had to offer (honor, compassion, liberty, truth, trust, dignity, integrity, justice) are laid waste to give way to what now matters most: survival. In the twilight of man's morality, a new symbol emerges to bring law to the foreboding chaos to come .. the APOC Long Sword. 
Birthed in a design reminiscent of a gilded time the Broad Sword strips away the gaudy to give you a cold blade of 32 1/2" that gives you further reach than its Broad Sword cousin. Featuring a double cutaway in the blade profile, the APOC Broad Sword's dexterities are quick, light, strong and sharp with all the features of the series to help you stand alone in broken world.
The black textured fiberglass sheaths are fitted to a Molle compatible kydex platform that allows you to secure your swords to belt or pack in multiple carry positions. For belt or sling carry setups the platform has four slots 1 3/8" long and 1/8" wide. A notch in the handle and the platform allows for stealth unsheathing as well as locking the sword securely for inverted maneuvers. No preparations for the end times are complete without an APOC tactical sword for when the bullets run out, the knives are too short and your life is on the line.
Key Features:
32 1/2" black oxide coated 9260 spring steel blade
Full tang, triple riveted G10 handle
Light fiberglass scabbard with Molle compatible platform
Specifications:
Overall: 45 1/2"
Blade Length: 32 1/2"
Handle Length: 10 1/8"
Weight: 3 lbs 3 oz
Point of Balance: 2 1/2"
Thickness at Guard: 5.9mm
Blade Steel: 9260
Handle Material: G10

Specs will vary slightly from piece to piece.
Life is too short to live without the Survival Longsword by APOC. Be happy. Be Content. Be Satisfied.

Inventory Last Updated: Sep 30, 2023