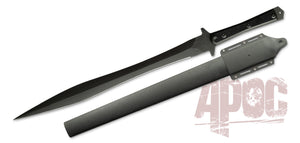 APOC Wasteland Gladius designed by Gus Trim
Like the Roman soldiers of ancient times exploring the unknown reaches you may find yourself at the end of time on expedition to an abysmal, undiscovered country. Like them the only means of survival may be your wits and the blade in your hand. In homage of those brave centurions (past and future) CAS gives you the APOC Wasteland Gladius in the continuation of our APOC Series of weapons. 
Containing all the expected features of the swords in the series, our Wasteland Gladius design arises from the larger gladius designs featuring a pronounced "wasp-waist" or "leaf blade" curvature. Along the 21 3/8" blade edge it gives you different angles for different tasks needed on the desolate wastes. The blade flares out from 1 3/8" to 2" creating a brutal chopping cutter and a powerful piercing point or whichever you need. The pommel of the handle doubles as skull cracker, glass breaker for whatever needs bashing or breaking. The 9 ½" handle allows for easy single-hand or two-hand sword use making the Wasteland Gladius probably the most versatile swords in the series.
The black textured fiberglass sheaths are fitted to a Molle compatible kydex platform that allows you to secure your swords to belt or pack in multiple carry positions. For belt or sling carry setups the platform has four slots 1 3/8" long and 1/8" wide. A notch in the handle and the platform allows for stealth unsheathing as well as locking the sword securely for inverted maneuvers. No preparations for the end times are complete without an APOC tactical sword for when the bullets run out, the knives are too short and your life is on the line.
Key Features:
21 3/8" black oxide coated 9260 spring steel blade
Full tang, triple riveted G10 handle
Light fiberglass scabbard with Molle compatible platform
Specifications:
Overall: 33"
Blade Length: 21 3/8"
Handle Length: 9"
Weight: 2 lbs 8 oz
Point of Balance: 3"
Thickness at Guard: 5.9mm
Blade Steel: 9260
Handle Material: G10

Specs will vary slightly
from piece to piece.
The Wasteland Gladius by APOC, Tactical Survival Gladius destined to impress, and priced at only $179.00, for a limited time.

Inventory Last Updated: Dec 04, 2023