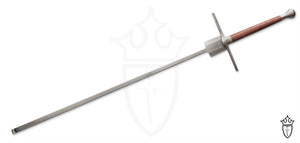 Kingston Arms Federschwert - Fencing Longsword
Based on a period original fencing sword now located in Switzerland, the Kingston Arms Federschwert is a well updated version of the feder originally offered by Hanwei in 2010. This sword now features a much more robust blade from tang to tip as well as a tougher cord wrapped grip. In our testing it holds up well to paired drilling as well as more spirited free play sessions. Re-developed in conjunction with several HEMA groups around the US this updated Federschwert provides an affordable and reliable training sword for long sword fencing practice.
Key Features:
Redesigned Blade for HEMA use
Rolled Tip for Safety
Safe Rounded Edges
Specifications:
Overall: 51"
Blade Length: 38"
Handle Length: 12 1/2"
Weight: 3lb 11oz
Point of Balance: 3 1/2"
Thickness at Guard: 8mm
Thickness at Tip: 2.5mm
Blade Steel: 5160
Handle Material: Cord

Specs will vary slightly
from piece to piece.
Every product is unique, just like you. If you're looking for a product that fits the mold of your life, the Federschwert Fencing Longsword by Kingston Arms is for you.

Inventory Last Updated: Sep 30, 2023