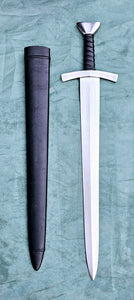 This item is out of stock.  Taking Pre-Orders! More will be ready to ship, late December.
Bowman's Short Sword 
 A Huntsman in the woods could not be too encumbered while moving thru the thick bracken and saplings in the woods by a long sword, but it was still something that they would not want to go about without. This form of shorter sword allowed for freer movement in this situation. In War an Archer often needed to move quickly around the battlefield as the battle unfolded. This is also true for a warrior with a Crossbow, as they often needed to do the same as well as fire from a kneeling position. This sword fills the bill for all those situations. The classic "boat'' shaped pommel also lent itself to the maneuver of placing a hand at the top to greatly increase the power of a thrust to penetrate a thick gambeson or even mail. Lastly this type of sword is also sometimes referred to as a " Saddle Sword" as well.
The sword includes a wood lined leather covered scabbard. The blade is extremely sharp and is from very durable 5160 carbon steel.
Specifications:
O.A Length: 28.250"
Blade Length: 22.125"
Blade with at Guard: 2.250
Blade Width at 12" from tip: 1.9375
Handle Length: 6.1875"
Grip Length: 4.0"
Weight: 2lbs 4.2 oz.
Balance Point: 3.375" Below Hilt
Features:
Hand forged 5160 Tempered carbon steel blade, blade sharp.
Guard and pommel are made from a quality low carbon steel to lower the possibility of rust from handling.
Wood scabbard from quality steel fittings.
The Bowman Sword or Saddle Sword was built with people like you in mind. Something to keep you happy. Every. Single. Day.

Inventory Last Updated: Dec 04, 2023