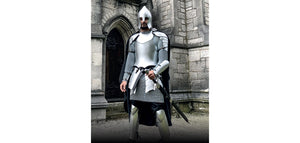 Only a distinguished veteran, proven on the battlefield of countless wars, can earn his place amongst the elite Citadel Guard. Should the walls ever fall, these formidable warriors shall stand steadfast, the last line of defence of the kingdom. They don the finest plate armours, forged by the imperial smiths to keep their wearers safe from the innumerable perils they are destined to face.
Includes Citadel Guardian Greaves, Bracers, Helmet, Breastplate and backplate and Pauldrons. Armour set only, costume not included. All armor is made from polyurethane and is durable and lightweight.
Vambraces - Length: 11 1/2" Width:  4" (adjustable)
Helmet - Length: 10 1/2"  Width: 7" (widest part) Height: 12" Circumference (Inner): 24 - 25" 
Shoulders - Length: 13" Width: 10 3/4"
Cuirass - Breast Plate Length: 18" Width: 14 1/4" Back Plate - Length: 17 3/4" Width: 13" Tasset - Height: 11 1/4" Width: 9 1/2" Shoulder to Tasset bottom: 34"
Greaves - Length: 18 3/4" Width: 3 7/8" (adjustable)
Key Features:
Highly detailed, durable and light weight LARP armor
Adjustable leather straps
Versatile in many LARP genres
The Citadel Guardian Suit of Armor by Red Dragon Armoury was built with people like you in mind. Something to keep you happy. Every. Single. Day.

Inventory Last Updated: Dec 04, 2023