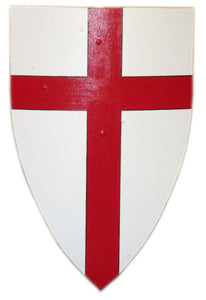 Our Crusader Heater Wooden Medieval Shield first is functional for light combat and Rattan fighting and is wrapped in canvas on front and painted black on the back. The image is hand painted. It has leather X pattern hand hold with suede leather covered hand pad; as well as adjustable arm strap. The arm strap and hand holds are attached by rivets. You may also elect left or right handed hand holds, as well as a shoulder strap.
Available in Right Hand and Left Hand.
Dimensions:
1/2 inch Thick
34 inch Length Approximate
22 inch Width Approximate
*Please be aware that these items are handmade. Slight deviations in pattern, color, and shape may occur.
Made in the USA.
The Crusader Medieval Heater Shield 22"x34" Functional Medieval Shield destined to impress, and priced at only $164.00, for a limited time.

Inventory Last Updated: Dec 04, 2023