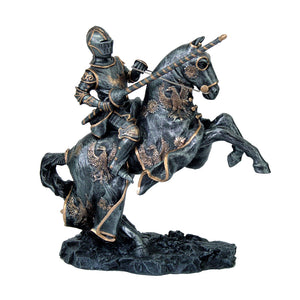 This detailed Jousting Knight Statue is a gorgeous cold cast resin collectible depicting an armored Jousting Knight on horseback with his lance in hand, ready to charge. The hand painting provides a dark, antique stone coloring to most of this riding knight statue. The soldier and horses armor and clothing are touched with the look of brass. His face hidden by a visored helmet. Keep the glory and drama of medieval jousting alive in your home with this collectible knightly statue.
Key Features:
Hand painted to look like stone accented with brass
Incredibly detailed in its appearance
Adds medieval style to home decor
Specifications:
Height: 10"
Length: 9 1/4"
Width: 4 5/8"
The Knight Charging into Joust on Armored Horseback Statue by KoA was built with people like you in mind. Something to keep you happy. Every. Single. Day.

Inventory Last Updated: Sep 30, 2023