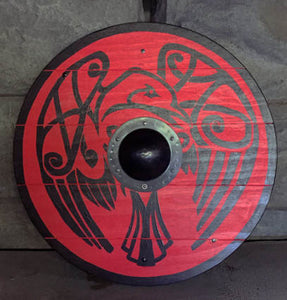 Norse Raven Shield 30" Wood.
30" Raven Viking Shield has a black raven charge painted upon a red field. The shield is hand painted.  The hand hold is made of oak. The hand hold and shoulder strap are attached by rivets. The shield is approximately 30 inches in diameter and is constructed from 1/2 inch thick wood with 16 gauge steel boss.
*Please be aware that these items are handmade. Slight deviations in pattern, color, and shape may occur.
Single Wood Grip that can be used Right Hand or Left Hand.
Made in the USA.
The Raven Viking Shield - Large 30" Hand painted is the product you didn't think you need, but once you have it, something you won't want to live without.

Inventory Last Updated: Dec 04, 2023