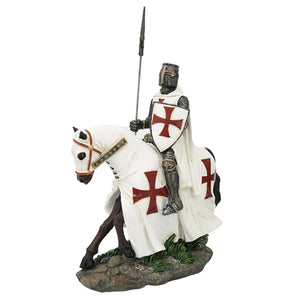 Templar Knight Statue on Horseback.
The Knights Templar were one of the most wealthy and influential military orders of the Crusades, their prominence has left a long lasting impression.
Showcase their iconic look in your home or office decor with the Medieval Templar Knight on Horseback Statue. Painted entirely by hand, this statue is crafted from cold cast resin and features a striking level of detail. It stands on a base of rocks and grass. The brown horse is cloaked in a white sheet featuring the signature red cross of the Knight Templar. The Crusader knight sits in full armor on the horses back, with a tall spear in one hand and a Templar shield in the other. He also wears a tunic with the Iconic Templar cross on the front, creating an authentic look.
Give this Templar Knight on Horseback Statue as a special gift to your favorite friend, family member or collector, or you can place it among your own collectibles for an eye-catching display.
Key Features:
Crafted from cold cast resin
Painted by hand to ensure quality and authenticity
Depicts a Templar knight with a spear on horseback
Features impeccable detail from top to bottom
Great for personal display or as a gift
Specifications:
Height: 8.125 Inches
Width: 7.125 Inches
Depth: 3.5 Inches
The Templar Knight on Horse Statue, Medieval Statue from KoA is a sensational customer favorite, and we hope you like it just as much.

Inventory Last Updated: Sep 21, 2023