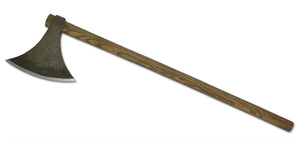 Our Viking Medieval Axe is a typical pattern, capable of cleaving helms or armour with impunity. The Vikings also used them for felling trees and trimming logs. They feature steel heads with sharp tempered edges and hardwood shafts.
Key Features:
Viking Axe features steel head
Hardwood Shafts
Specifications:
Overall: 35"
Blade Length: 8 3/4"
Weight: 4lb 8oz
Thickness at Guard: .82

Specs will vary slightly 
from piece to piece.
The Viking Axe, Antiqued by Paul Chen / Hanwei is far and away, one of our most popular items. People can't seem to get enough of it.

Inventory Last Updated: Dec 04, 2023